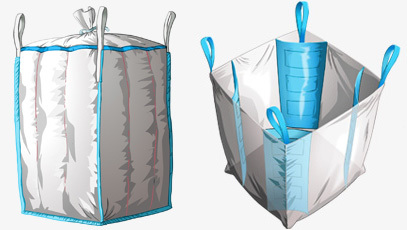 Jumbo Bag
Product Description
FIBC FABRIC /BAGS

Bulk Bags or FIBC fabrics are all about controlling static electricity, which is an imbalance of electric charges within or on the surface of a material. When bulk bags are rapidly filled and discharged, the flowing movement of finely powdered substances can cause a buildup of static electricity. Removing or preventing an electrical charge is critical in the packaging of flammable or combustible materials or in an environment where combustible dust may be present.
A flexible intermediate bulk container (FIBC) is an industrial container made of flexible fabric that is designed for storing and transporting dry, flowable products. These bags are used in various industries such as Chemicals, Pharmaceutical Drugs, Fertilizers, Food Products, Grain, Plastics, Seeds and Hazardous Waste Material.
FIBCs are most often made of thick polypropylene materials. Production of FIBC involves the conversion of PP Granules to long tapes and later woven, cut to size, printed and stitched to be used. We hold expertise in manufacturing a wide variety FIBC Bags. We also provide customization as per the specifications detailed by our customers to fulfill the requirements.

Features

Very strong and flexible
Each FIBC can carry up to 1000 times its own weight.
Each FIBC has integral lifting loops, eliminating the need for pallets.
Excellent Printability
Efficient use of space with Specific Designs
Cost effective
We offer following types of FIBC bags;

Standard FIBC bags: Standard FIBC bags very flexible in pattern and dimensions. They usually come with different types of loops such as cross-corner loops, slings and standard loops. They are used in the industry for transporting a number of different types of material. Standard bags are made from standard polypropylene material that are stabilized against UV degradation.

Form Stabilized Bag(Baffle Bags): Form stabilized bags offers maximum stability to the bag. Four rigid cross corner loops allow the forklift operator to pick up bags without the requirement of additional staff. These type of bag is available with all sewing pattern, inlet/outlet design and various closure options. Form Stabilized bags ensure...

Saving in Space,
Higher Stability after filling, and
Retention of the rectangular shape.
Conical Bag: A standard or stable bag with a cone at bottom, conical tops allow to utilize the total capacity of the bag better. FIBCs with a conical base are specially developed for poorly flowing products like powders, Slurries, flour products etc. This conical shape allows them to flow from out spout.

Cross Corner / Tubular Bag: Cross Corner loop bag/Tubular Bag, loops are sewn in the body with the main fabric. These types of FIBCs are prepared when retaining the shape of the lifting loop becomes important. This bag is available in all patterns, input/output variation and different closing options. They are ideal for fine and hydroscopic materials. The tubular body design is also ideal as a liner-less option for fine materials and is recognized for its ease of lifting and manipulating with a forklift.

Tunnel Loop Bag: Tunnel loops are two continuous tunnels along the side of the FIBC. Tunnel loop bags are excellent for ease of and manipulating the FIBCs with a fork-lift. These are easy for one person to pick up and can therefore save labour In addition, this may reduce your pallet usage.

UN Bag: UN bags are special type of FIBCs are designed to comply with the United nations Recommendations on the Transport of dangerous Goods. They have formulated directives to ensure safety and prevention of accidents, any type of injury, or even any sort of damage to the property. We test and design these bags so that they comply with all the requirements of a UN FIBC. Bright designs and produces quality UN Bags with the help of an efficient and trained staff along with the advanced technical equipments.

Asbestos / Deport Bag: These bags meet the requirements of the landfill areas for waste that contain asbestos and can be disposed of underground. We take extra care to ensure that the Asbestos bag is fabricated with high grade raw material to ensure quality and longer service life. These bags are made as per customer requirements.

Single loop bag : Single loop bag has one loop on the main fabric of bag. These are widely accepted as being more cost effective than the traditional 4- Loop Bags used. Compared to the standard four loop bags, these bags have different construction. Besides being an economical alternative, these bags also serve as the best packaging solution for granular and powdered bulk material. The unique construction of these bags make to easier to stack them at several levels as per positions such as handling requirement, storage and conditions of transportation. It protects the goods and reduces the pollution. This loop bags are available as per customer requirement with printable format

Double loop bags: Double loop bag has two loops on the main fabric of bag. Double loop bags are similar to single loop bags and serve same purpose.

Baffled Line Bag: The Baffled bag is preferred for transportation and storing products where best use of available space is essential is designed as an alternative to rigid forms of containers. The Baffle FIBC design utilizes inner baffles that maintain the original shape once the bag has been filled. This is achieved with perforated panels that ensure that the product flows uniformly into the corners.

Type A Bags: Type A FIBCs are made from plain woven polypropylene and other non-conductive fabrics. As there is no static protection provided by Type A FIBCs, it is essential that they are not used to store or transport combustible materials or used in flammable or combustible environments.

Used to safely transport non-flammable products
No flammable solvents or gases should be present around the bag.
Type B Bags: Type B FIBCs are made from plain woven polypropylene fabrics that have a low breakdown voltage to prevent the occurrence of highly energetic propagating brush discharges that can ignite a dust-air mixture. Type B FIBCs cannot be considered antistatic because they do not have any mechanism for dissipating static electricity.

Used to safely transport dry, flammable powders
No flammable solvents or gases should be present around the bag.
Type C Bags: Type C FIBCs are made from non-conductive polypropylene fabrics interwoven with conducting threads, normally sewn in a grid pattern, that connect the bag to ground via a grounding point. The connection to ground or earth during filling and discharging is critical to the safe use of Type C FIBCs

Used to safely transport flammable powders.
Used safely when flammable solvents or gases are present in the bag.
DO NOT USE when ground connection is not present or has become damaged.
Contact Us
Off No.-162 - B, Baikampady Industrial Area,, Mangaluru, Karnataka, 575011, India
Phone :+918035063417